Cities I've Visited:
——————————————
Random things to know about me
(in no particular order):
American transplant to the UK (since 2002)
Places I've lived (in order):  Oklahoma City, Orlando, San Francisco, Washington DC, Atlanta, London
20+ years in communication
Accredited Business Communicator (ABC)
Favourite TV show of all time:  Buffy the Vampire Slayer (best episode was "Buffy – The Musical")
Married (to Andrew, a Brit, met on holiday in Barcelona, celebrated our 5-year anniversary in July)
Two dogs (Noggin and Muffin, both Westies)
Born and raised in Oklahoma, one of six kids
I'm an IABC Research Foundation donor
Love to sing (and used to do it professionally)
Love to act (and used to do it amateurishly)
Favorite drink: the very latest martini trend (current fav – cucumber w/ wasabi peas)
Favorite food: sushi
I write a children's story-blog, featuring my dog Noggin, and his best friend, Isabelle, called  "The Spectacular Adventures of Noggin & Izzy" .  And some of the guest stars are the kids of IABC friends.
I'm hopeless with directions, and get lost a lot!  Thank God for SatNav.
When I travel, I prefer to stay in people's homes rather than hotels.
I change my hair almost as often as other people change their socks (so I no longer look like the picture on this site – I'll update it as soon as I get one that makes me look this cute).
I don't really care what kind of car I drive — as long as it's red and convertible (though living in the UK, I don't get nearly enough days that I can put the top down).
————————————————————-
Videos of my Dad singing
Another video of my dad, Albert Gibson, who is now 88 years old.
This one was one from his days in the Air Force:  "Someday I'm Going to Murder the Bugler".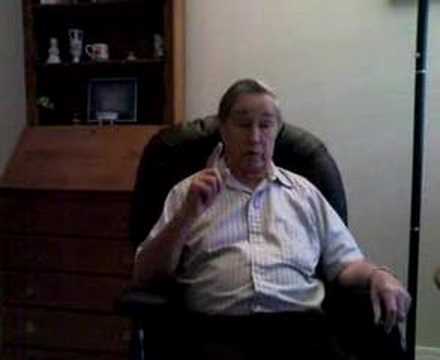 "Shanty in Old Shanty Town"